Diabetic Foot Care
Why Is Diabetic Foot Care Important?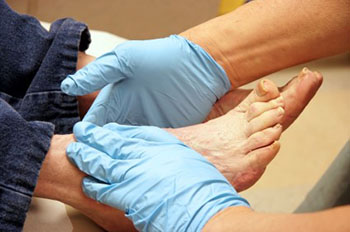 People with diabetes are always being told to take good care of their feet but it is not always clear why. So what exactly is different or special about the feet of a diabetic?
Diabetes can cause many different and more serious foot problems than those without diabetes. Often these problems are the result of changes in circulation and sensation caused by this disease.
The small vessels in the feet are the farthest away from the heart and capillary walls can become thicker or close down as a result of diabetes. Therefore, the substances needed to fight infection and promote healing cannot pass out of the small vessel walls to get to where they may be needed. Also there is a much higher incidence of circulation changes the longer a person has diabetes and as they age. Diabetics can then become more prone to infection and slower to heal. These changes can also cause dry, raw, cracked or itchy skin, making one more susceptible to bacterial or fungus infection and sores. Changes in toenail growth (thick, deformed and/or fungus) are common, and can lead to pain and infection. Even a small scrape, scratch or cut can become a major problem for some. Diabetic foot infections can become much more serious and difficult to treat than non-diabetics.
Diabetic neuropathy (changes in sensation), increased, decreased, absent or abnormal sensation, is another common complication seen with diabetes. When sensation is decreased or absent it becomes difficult to tell when something hurts, such as a toe rubbing against the shoe, when you step on something or knowing if something is hot or cold. When there is increased sensation, life can be miserable from constant burning or shooting pain in the feet and legs. Some may even develop a combination of numbness along with terrible burning pain.
Diabetics are also more prone to developing skin sores and ulcers (open, slow or non-healing sores) on the feet, ankles or legs. These sores or skin ulcers can become difficult to heal, with some requiring months of treatment at a wound care clinic.
Possibly the biggest fear for many diabetics is amputation from infections, poor circulation or neuropathy. Fortunately, the incidence is significantly reduced with regular, proper diabetic foot care.
If you or someone you care about has diabetes, then it is important to have a thorough evaluation by Dr. Silver, who can help with any existing foot problems as well as preventative foot care. By taking advantage of the many services available at the Westwood Foot Clinic, you can maintain healthy feet and hopefully prevent foot infections, ulcers or amputations. Remember, you only have one pair of feet and they need to last a lifetime.
Contact the Westwood Foot Clinic in Golden Valley, MN for an evaluation of your feet by Dr. Silver. The doctor and his staff can help determine what you need to keep your feet healthy.
Diabetic Services Provided at the Westwood Foot Clinic
Routine Foot Care: If you have thick, deformed or fungus toenails along with loss of sensation or poor circulation, then you may be qualified for care of your toenails on a regular basis in our clinic. This also includes the trimming of painful corns or callouses if needed.
Diabetic Shoes and Inserts: If you have any foot deformity such as a bunion or hammertoe, poor circulation or loss of sensation with a callus or prior sores, ulcers or amputation, you may qualify to receive 1 pair of diabetic shoes and 3 pair of cushioned diabetic shoe inserts per year. At the Westwood Foot Clinic we are suppliers of approved diabetic shoes and inserts with a wide selection of styles and types, including dressy and athletic shoes as well as difficult to fit, deformed or swollen feet. We have seen a significant decrease in foot problems with patients who are wearing properly fitting shoes.
Compression Stockings: If you have problems with swelling in your feet, ankles and/or legs, then we can fit you with compression stockings. We are an authorized Jobst Service Center with special training in selection and fitting of medical grade compression stockings including custom-made and special fit. Insurance coverage depends on your plan but if it isn't covered you can rest assured that we have the best prices, quality and selection in the area.
Circulation Testing: If you have (or we detect) any circulation problems or concerns then we can test your circulation. We perform PADnet circulation testing here in our office. This simple 20-30 minute test can detect changes in blood flow and pressure of the blood vessels in the lower extremities. This is a great screening test to determine if your circulation is to the point where you would need to see a circulation (vascular) specialist to prevent more serious problems.
Special Creams and Ointments: If you have dry, cracked or irritated skin, we have a large selection of special creams and ointments available at the Westwood Foot Clinic that can help soften skin, prevent itching and help prevent infections from scratched, raw or cracked skin. Many of these are only available through podiatrists and not found in pharmacies.
Special Reusable Gel Pads, Cushions, and Toe Protectors: If you have sore toes from corns, calluses or other irritations and not a candidate for surgical correction because of poor circulation or health complications, then we have several products that can help you. We carry a wide array of reusable gel toe separators and straighteners, corn, callous, bunion and hammertoe protectors to reduce pressure and soreness to an area, all at very reasonable prices. Most of these items are special order and not available in stores.
Neuropathy Pain Relief: If you have developed painful neuropathy we have two products that may help. NeuRemedy is a capsule with a high concentration of the vitamin Benfotaimine that helps approximately 60% of patients who take it to reduce or eliminate neuropathy pain. Capsin is a high strength Capsaicin lotion with applicator that can provide relief from burning, painful neuropathy. These products are only available in our clinic.
Special Custom Made Orthotics and Foot/Ankle Braces: Patients with a weak or imbalanced foot structure can be measured and fit with prescription orthotics in our clinic. If you have a partial foot amputation, we can fit you with a special custom orthotic to wear in your shoes, which is usually covered by insurance. We also measure and fit for custom and non-custom AFO (ankle foot orthotic) and drop foot braces, which are often covered by insurance.
Correction of Foot Problems: Surgical correction of a foot problem for people with diabetes is usually required to eliminate pain or correct a problem that has the potential to cause or has caused infection. If you need a surgical procedure, Dr. Silver is able to take care of most common problems in the feet. Most simple procedures can be performed in the office in our procedure room. Larger procedures or those requiring special or additional equipment are performed at the Centennial Lakes Surgery Center in Edina.
High Priority Appointment Scheduling Available: Diabetic patients who develop a problem that they are concerned about have high priority for getting in quickly at the Westwood Foot Clinic, often with same or next day appointments available. We want to help you from developing more serious problems by being available when you need us.
Evaluation and Management of Foot Problems: Diabetic patients receive a regular thorough foot examination and evaluation as well as management of any existing or ongoing problems. We stress preventative care and well as educating you on proper foot care.
Westwood Foot Clinic proudly serves the communities of St. Louis Park, New Hope, Plymouth, Wayzata, and Minneapolis.