Kamea G Exfoliating Foot Cream
Special for hard, scaly, thick & callused skin on feet
Great for Cracked, Rough Skin Around Heels!
Contains glycolic acid that acts as a chemical peel (exfoliant) to remove heavy skin build-up
NOW AVAILABLE AT THE WESTWOOD FOOT CLINIC
LANTISEPTIC Therapeutic Cream
⦁ All the soothing, healing action of Lantiseptic Skin Protectant in a softer, easier spreading form for extra-delicate skin (37% Lanolin)
⦁ Glides on smoothly over delicate tissue.
⦁ Moisturize to restore the skin's natural moisture balance
⦁ Superior softening and moisturizing qualities make Lantiseptic Therapeutic Cream highly effective in protecting and maintaining vulnerable diabetic skin
⦁ Ideal for diabetic skin, cracked heels and fissures on feet, dry, cracked, reddened skin, chafing.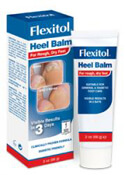 FLEXITOL Heel Balm
Its unique formula contains 25% Urea in a highly concentrated, moisturizing and emollient base to soften dry, cracked heels and feet. The combination of emollient ingredients actively replenishes moisture deep below the surface of the skin, promoting a visibly healthier skin in just three days of application.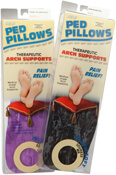 PED PILLOWS™ Prefabricated Orthotics
Ped Pillows™ are medical-grade, prefabricated orthotics hand-crafted by the lab technicians in our custom orthotic laboratory in Eden Prairie, MN. They are designed to aid in treating various foot related pathologies including:
⦁ Foot/leg fatigue
⦁ Callus pain
⦁ Excess Pronation
⦁ Heel pain/plantar fasciitis
⦁ Back pain
LANTISEPTIC Skin Protectant
An intense moisturizing high-lanolin formula (50%) which has become the product of choice for preventing and helping treat a variety of skin conditions.
Ideal for:
⦁ Dermatitis
⦁ Severely dry, scaly skin
⦁ Skin tears & cracks
⦁ Burns and other skin injuries
⦁ To help prevent calluses
HEAT HOLDERS® SOCKS: NOW AVAILABLE AT THE WESTWOOD FOOT CLINIC There is no need to suffer with cold feet this winter!!!
HEAT HOLDERS® The warmest socks ever! Get a pair (or two) while supplies last!
⦁ Over 7x warmer than regular cotton socks
⦁ 3 x warmer than ordinary thermal socks
⦁ Available in multiple colors & styles-Original, Long & Slipper- Men's, Women's, Small to Extra Large
⦁ Heat Holders® means NO MORE COLD FEET!
Made using a unique 3 step process which makes them the Warmest Thermal Socks ever!
Personal Pumi Bar
The Personal Pumi Bar is made with authentic pumice allowing the bar to reshape itself after every use so that it is clean, fresh and ready to be used again. It is a safer and more effective alternative to harsh pumice stones and foot files that can cut and scrape hands and feet. Use the bar to improve the results of softening creams and even the best manicure and pedicure. Each bar comes individually wrapped with a set of instructions for proper usage.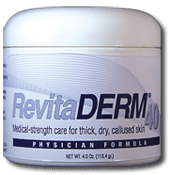 RevitaDERM 40 Physician Formula Callus Remover
This prescription strength moisturizer contains 40% urea to dissolve hard, callused, dry and cracked skin (especially on your heels) with skin-reviving action!
*Clinically proven superior results.
*Comes with a pumice/brush to remove dissolved skin after using cream.
Contains:
⦁ 40% Urea (to dissolve hard skin)
⦁ Aloe Vera P2000 (Whole Leaf Aloe Concentrate to sooth skin)
⦁ Tea Tree Oil (which has anti-fungal properties)
⦁ Chamomile (to soften & restore skin)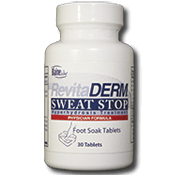 RevitaDERM® Sweat Stop Foot Soak Tablets
Stops Sweaty/Smelly Feet (Hyperhidrosis)
⦁ Safe, unscented and easy to use!
⦁ Simply dissolve two tablets in warm water, soak the feet and allow to air dry.
⦁ 100% Risk-Free, Money-Back Guarantee.
JOBST COMPRESSION STOCKINGS available at the Westwood Foot Clinic
*We are an Authorized Jobst Distributor*
⦁ Whether you suffer from tired aching legs from too much time standing or sitting, or suffer from more serious problems like swelling, varicose veins and venous disease.
⦁ Great for long distance travel or post knee, ankle or hip surgery.
⦁ We fit Men & Women, all shapes and sizes from tall to petite, large frame to small.
⦁ We offer a wide range of colors and styles to meet your needs from athletic & casual to dress stockings as well as various compressions.
If comfort, health and style are important to you, then you can count on JOBST®, the #1 Physician Recommended Compression Stockings. We can beat the competition on price too!
ORTHO-NESIC Pain-Relieving Gel Physicians Formula
Topical pain relieving gel developed for effective relief of muscle aches, strains, spasms, joint and arthritis pain including upper and lower back.
⦁ Unique formula delivers pain relief that outlasts the competition!
⦁ Recommended by many medical professionals for pre- and post-exercise application to reduce swelling and stiffness
⦁ Greaseless, non-staining formula with Camphor, Menthol, Capsaicin, Ilex & Green Tea
⦁ Goes on cool, then warms the treated area for soothing relief
Infracare Socks…HELP FOR ICE COLD FEET! AVAILABLE EXCLUSIVELY AT THE WESTWOOD FOOT CLINIC
GET A PAIR (OR TWO) BEFORE OUR SUPPLY IS GONE!
These socks are ideal for cold feet due to poor circulation and other underlying problems such as:
Raynaud's Peripheral vascular disease ( PVD) Diabetes Arthritis Neuropathy
FEATURES:
⦁ Socks are coated with a special material that will increase the temperature of your feet an average of 12 degrees.
⦁ Made of 90 % cotton, 5 % Polyurethane and Biomaterials.
⦁ Socks are designed to be constriction free and seam free with stretchy upper.
⦁ They can also be used as diabetic socks.
⦁ Wash in cold water and drip dry for re-use. Do not use washing machine or dryers.
⦁ Socks will retain heating properties for up to 3 months of washing.
DR. COMFORT SOCKS AVAILABLE AT THE WESTWOOD FOOT CLINIC
⦁ Perfect for people living with diabetes, arthritis, edema, neuropathy and circulation issues
⦁ Available in a range of men's and women's sizes and styles, including diabetic and extra roomy for swollen or larger feet and legs.
⦁ All socks are made with Nano Bamboo Charcoal Fibers which may promote blood circulation and is a natural deodorizer.
We guarantee these to be the most comfortable socks you can find and will outlast most other socks…all at a very affordable price!
Jill's Gels and Visco Gel Products
We carry a variety of super soft gel callus cushions, toe spacers, protectors and straighteners as well as bunion and hammertoe shields, corn pads & heel pads to reduce pressure while walking or standing.
⦁ Self-Stick cushions make for easy application
⦁ Washable and re-usable pads. Each cushion or pad can be used over-and-over again.
⦁ For use in all styles of footwear
⦁ Excellent cushioning and long lasting comfort
DR. COMFORT SHOES AVAILABLE AT THE WESTWOOD FOOT CLINIC
Comfortable Shoes! Great Quality!! Great Price!!!
⦁ Men's sizes: 6-15 Women's sizes: 4-12
⦁ Narrow to extra-wide
⦁ Various styles and colors including athletic, casual, dress, stretch, Velcro-closure, double depth and boots
⦁ For normal to difficult-to-fit feet
At the Westwood Foot Clinic we can measure and fit you with the perfect Dr. Comfort shoes for your feet…whether you have normal, arthritic, deformed or swollen feet. Money back guarantee!