Hammertoes
What is a Hammertoe?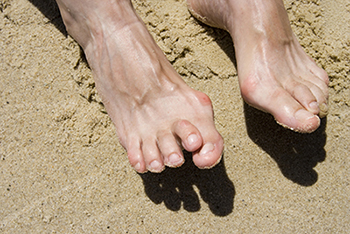 A hammertoe is a toe that has bent, curled or contracted. It got this unusual name as sometimes the toe will resemble a hammer (if you really use your imagination). There are many causes including an imbalanced, weak or overly flexible foot structure, congenitally deformed or long toe, the "wrong shoes" and walking changes from back or balance problems, especially in the elderly. The bent or hammered toes will often develop a painful pressure corn on the top or tip of the toe and make it difficult to find comfortable shoes.
Initial treatment typically involves shoes with a deeper, roomier toe area to prevent the top of the toe from rubbing against the shoe. Medicated corn pads can soften the corn, but must be used with great care to prevent burning the skin or infection. Be very careful if you try to trim off a corn as many patients are seen in our clinic after cutting themselves trying to trim the corn on their hammertoe. Corn pads that are available in drug stores can also help. At the Westwood Foot Clinic we have several types of gel corn pads, gel toe shields and hammertoe splints available for your convenience. We also have depth and wider shoes as well as stretch shoes available in our clinic.
Typically it's time to see Dr. Silver at the Westwood Foot Clinic in Golden Valley, MN when you are having chronic toe irritation, problems wearing shoes comfortably and especially if your hammertoe becomes painful and starts to interfere with normal activities such as walking or sports. Dr. Silver will evaluate your hammertoe and determine the best treatment for you. If surgical correction to flatten your toe is necessary, this is usually performed in our clinic with a local anesthetic, often with minimal discomfort and without taking you off your feet afterwards.
If you need to schedule a consultation with Dr. Thomas Silver, call our office in Golden Valley, MN, at (763) 231-2341. The Westwood Foot Clinic is also on Facebook, Twitter, and Pinterest!
Westwood Foot Clinic proudly serves the communities of St. Louis Park, New Hope, Plymouth, Wayzata, and Minneapolis.