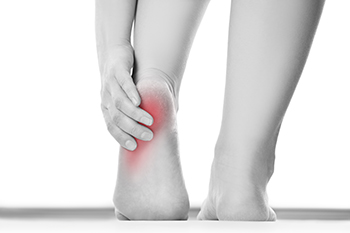 Finally…Relief for Your Heel Pain!
If you or someone you care about is experiencing heel pain–then fortunately you have come to the right place. Heel pain is one of the leading reasons that patients just like you visit the Westwood Foot Clinic and Podiatrist Dr. Tom Silver.
Heel pain can have many causes, but it most commonly arises from overuse or repetitive stress on the foot. Pain in the heel can cause problems for you while standing, walking, and exercising. If ignored, or if activities that make it worse are not avoided, disabling pain and/or chronic problems can result. Therefore, the sooner you get appropriate treatment the better!
Dr. Silver will help you get back to enjoying your favorite activities—without discomfort. The pain in your heel may be traced to a common condition called plantar fasciitis but may also be due to other ailments.
Read below about the nature of this condition to help you make the best decisions about your foot health and treatment:
Heel Pain: What causes it?
Plantar Fasciitis: The plantar fascia is the band of tissue that runs along the bottom of your foot from the heel to the base of the toes and supports the arch. This band can easily become injured from excessive or repetitive activities that put stress on your feet such as exercise, wearing ill-fitting shoes, sudden weight gain or any imbalance in the way you walk. When the fascia becomes pulled, stretched, irritated, strained and weakened, the result can be disabling pain and inflammation in your arch or in the bottom of your heel.
Achilles Tendonitis and Bursitis: This is inflammation in the back of your heel, (usually on the outer edge) at the point where the Achilles tendon attaches to your heel bone (insertional tendonitis). It can result in severe pain with walking, exercise, or wearing shoes with an enclosed heel. This often stems from some of the same causes as plantar fasciitis.
Sever's Disease in Children: In children, severe pain on the bottom back edge of the heel may be caused by inflammation of the growth plate. Most commonly seen in active boys between the ages of 9 and 12, the pain can cause limping and interfere with your child's ability to perform in sports.
Heel Spurs: Chronic weakness in your foot structure or a prior injury can result in bone spurs. This is growth of bone on the bottom of your heel where the plantar fascia attaches, or in the back of your heel where the Achilles tendon attaches. Heel spurs can become quite painful.
Injury to the heel: causes include 1) jumping from a height (including jumping out of a truck or off of equipment at your job), 2) falling from a height (such as falling off a porch or off the back of a pick-up) or 3) from a bicycling, motorcycle or auto accident.
Arthritis or Bone Abnormalities: This can result from a prior injury or from arthritic changes. Occasionally heel pain is the result of a bone tumor–the most common being a benign aneuyrsmal or unicameral bone cyst.
What is the treatment for heel pain?
After an evaluation of your symptoms, Dr. Silver will be able to identify the true cause of your heel pain and determine the best treatment plan for you. A digital X-ray or diagnostic ultrasound may be necessary to evaluate your foot structure and the severity of the injury. Occasionally an MRI will be required. A thorough evaluation of the way you walk (gait analysis) is often an important part of your visit.
Most of our patients with heel pain respond very well to our conservative (non-surgical) treatment options. These options depend on the cause of your heel pain. If your pain persists after these measures have been tried, advanced treatments and surgical interventions are available. Dr. Silver offers a variety of extremely effective alternatives to surgery.
Whatever the cause of your heel pain, the Westwood Foot Clinic has a 90 to 95 percent success rate in treating patients just like you.
Imagine getting back to your normal activities or the exercise activities you enjoy the most without pain! Whether your discomfort is caused by plantar fasciitis or any of the other conditions mentioned above, Dr. Silver can provide the treatment strategies to eliminate or reduce your symptoms and to help keep the pain away!
Don't delay getting treatment for your heel pain when help is just a phone call or click away! Same day appointments are often available at the Westwood Foot Clinic. Call our office at (763) 231-2341 in Golden Valley, MN, to schedule an appointment.
Westwood Foot Clinic proudly serves the communities of St. Louis Park, New Hope, Plymouth, Wayzata, and Minneapolis.