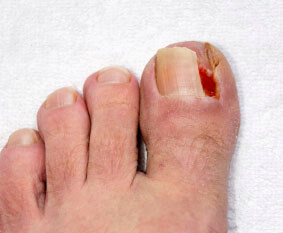 If you have ever experienced an ingrown toenail, then you know that it can become so painful that it's difficult to wear certain shoes and can limit your activities. Even pressure from bed sheets can keep you up at night! Many have tried trimming out the ingrown border only to make it worse. If not taken care of properly, an ingrown toenail can become infected–requiring oral or intravenous antibiotics!
Some causes for your ingrown nail are: Improper nail trimming, shoes that are too tight, toes that are rotated, contracted or deformed, injury to a toenail, a deformed or fungal toenail.
There is no reason for you to suffer any longer from your ingrown toenail when it can be permanently corrected by Dr. Silver at the Westwood Foot Clinic in Golden Valley, MN with a quick, simple office procedure that can easily be done on your initial visit.
Many patients with ingrown toenails are often able to schedule same or next day appointments.
---
Testimonials
"I went in to Westwood Foot Clinic for treatment of an ingrown toenail. I was really nervious and Dr. Silver ad\nd Stella were very reassuting and explained the procedure to me and calmed me down. The procedure was quick and painless. I even got a follow up email from Dr. Silver the night after my visit. I would recommend Dr. Silver and his team to anyone needing his service."
- Ellen F
"My experience with this clinic absolutely wonderful! All staff is very professional and caring. I had a procedure done (ingrown nail) by Dr. Silver. I was nervous about pain, but the way it was done was pain free. I would recommend this clinic to all my friends!"
- Zhanna